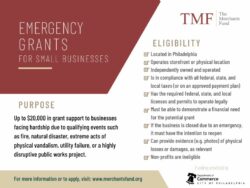 Other Information
Applicants should take the following steps to access the application:
Navigate to TMF's online grant portal
Click Create New Account, then log in (use existing username/password, if applicable)
Once logged in, click Apply at the top of the page
Click the blue Apply button in the top right of the TMF Emergency Grant Program description box

Applications will automatically save all progress. If you need to close it and finish later, there is no need to start a new application, simply login using your email and password you created and click "Edit Application" on your home screen. To submit your application, make sure all *required* information is completed and scroll down to the bottom of the application to click the blue SUBMIT button. You will receive an email confirmation once your application is submitted.